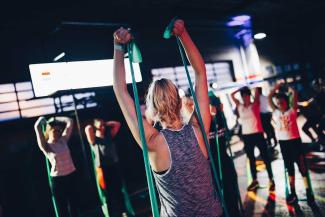 Go to the Gym for Lower Insurance Premiums
It stands to reason that, people who manage to get to the gym on a regular basis are generally healthier people. What you may not know is that they can also be wealthier people because they may pay lower premiums on their insurance. Insurance companies are stepping up their campaigns to encourage healthier living and it is paying off for both the insurance companies and their policyholders. 
Insurance underwriters consider a number of factors in determining the cost of coverage, including your health history, current health, height, weight, and your life style habits. Obviously, if you smoke, are overweight or you have a pre-existing medical condition, you are not likely going to qualify for lower premiums. However, if you live a healthy lifestyle and are proactive in improving your health and fitness, you could reap the financial benefits of lower premiums. 
Health Insurer Wellness Incentives
Several health insurance companies offer incentive-based wellness programs that will lower premiums based on the collective progress of participant groups. For example, Kaiser Permanente pioneered a wellness program that assesses the collective wellness of a participant ground and, as health and fitness measures improved, it lowers premiums for the entire group. Participants wear a fitness tracking device, such as Fitbit, that measures activity, blood pressure and body mass index. Millions of participants have seen their health insurance premiums reduced through these programs. 
Life Insurer Wellness Incentives
Life insurers are also getting on board with their own wellness incentive programs. John Hancock Life Insurance Company offers a 15% discount for participants who reach certain fitness milestones. Participants are required to wear a monitor that tracks their physical activity and awards points for achieving different levels of activity. The more points earned, the higher the discount participants can receive. Participants can lose their discount if the monitor doesn't register enough activity for a period of time. 
Employer Incentives
Wellness programs are among the fastest growing employee benefits now being offered by companies that want to encourage healthy living. An increasing number of companies offer onsite wellness facilities that include an exercise room, wellness counselors and even nutritionists. Many companies will cover the cost of a gym membership. Companies benefit from healthcare cost savings, fewer sick days and better employee morale. In many cases, these savings are passed on to employees in the form of lower health insurance premiums.
How Anyone Can Get Lower Insurance Premiums
Whether or not your insurance company or employer offers wellness incentives, you can lower your insurance premiums on your own just by living a healthy life. A steady exercise regimen and healthy diet can impact all of the factors that determine your cost of insurance. Your cholesterol and blood pressure are directly impacted by diet and exercise. By lowering both, you can qualify for preferred ratings which can save you hundreds of dollars a year in life insurance premium. 
 
*This content is developed from sources believed to be providing accurate information. The information provided is not written or intended as tax or legal advice and may not be relied on for purposes of avoiding any Federal tax penalties. Individuals are encouraged to seek advice from their own tax or legal counsel. Individuals involved in the estate planning process should work with an estate planning team, including their own personal legal or tax counsel. Neither the information presented nor any opinion expressed constitutes a representation by us of a specific investment or the purchase or sale of any securities. Asset allocation and diversification do not ensure a profit or protect against loss in declining markets. This material was developed and produced by Advisor Websites to provide information on a topic that may be of interest. Copyright 2023 Advisor Websites.